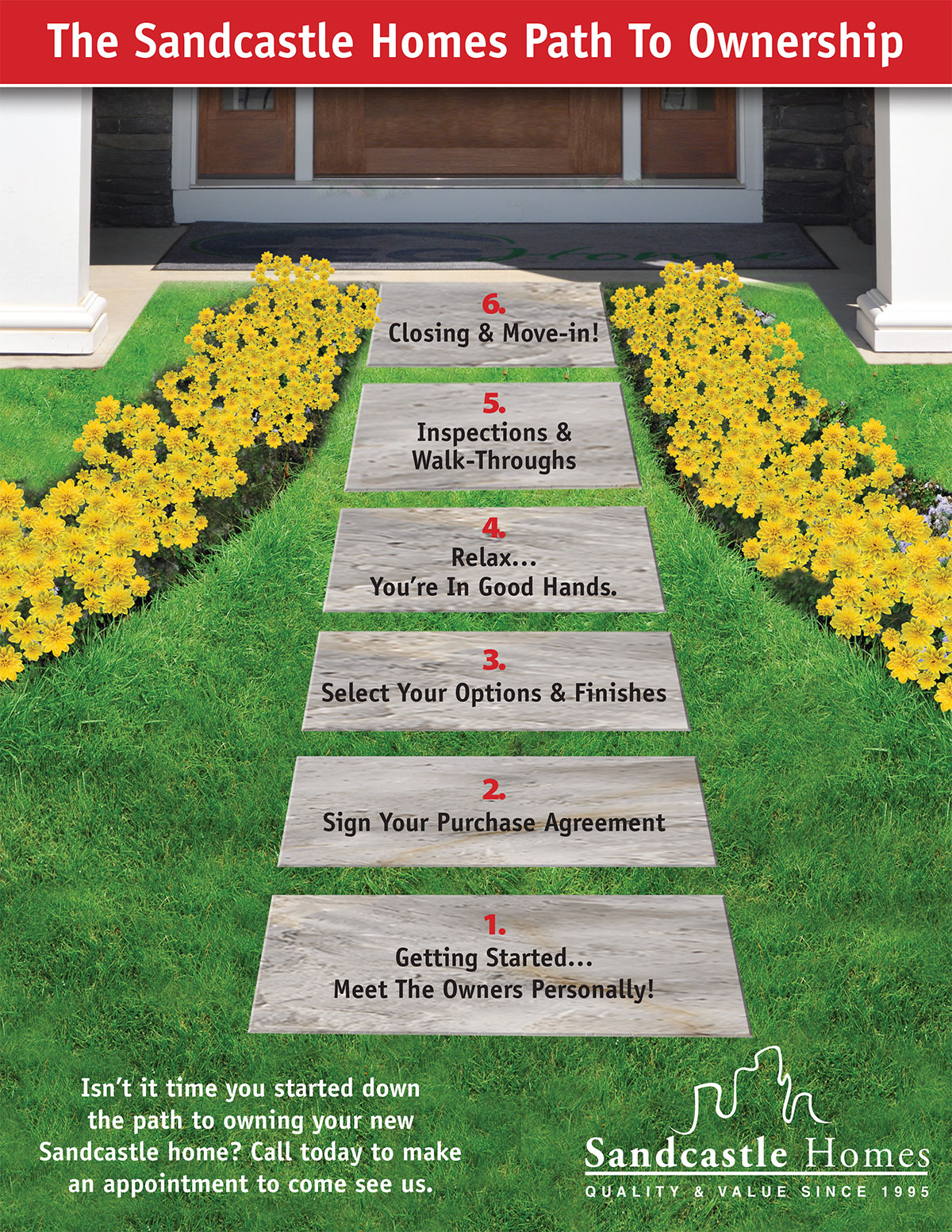 STEP 1.
Let's Talk and figure out what you need.
You will meet directly with our VP of Sales, Mike Taylor, who is committed to ensure who have an outstanding home buying experience. He will personally go over all your options to make sure all your wants and needs are met in your dream home!
STEP 2.
Sign Your Purchase Agreement.
Once you have selected your home, we will prepare the Purchase Agreement. This is also done in person, so that we can answer all your questions in real time.
STEP 3.
Select Your Options and Finishes.
Depending on the stage of the home, you may be able to select some or all of the finnishes that go into your new home. The selections process is conveniently done at the same location as your initial meeting and Purchase Agreement signing. Often, it can be done on the same day, or we can schedule a follow-up meeting at your convenience.
STEP 4.
Relax... You're In Good Hands.
Because it's in our hands. We will build you a high quality home, in the timeframe established in the Purchase Agreement. Our Quality Assurance Program is second to none in the industry. Our word is our bond.
STEP 5.
Inspections and Walk-Throughs
Once we have completed our internal quality assurance review, you will have the opportunity to hire a private inspector. The private inspector works for YOU. He/she is another set of eyes, to make sure nothing has been missed. Once we have received your inspection report, we will conduct the Introductory Walk-through with you, where the Final Punch list will be created. It is Sandcastle Homes' policy to have 100% of the punch list completed prior to closing. This is verified during the Final Walk-through, which typically occurs one week after the Introductory Walk-through.
STEP 6.
Closing & Move-in! Enjoy Your Home Sweet Home!
The Closing should be a celebration. It is the culmination of months of hard work on our part, and the beginning of the next phase of your life. A Sandcastle representative, generally an Owner, will always be present at the Closing to join in the celebration.

Stay Connected
Read our blog, connect with us on social media, or simply signup for our newsletter!