Popular Interior Design Trends in 2020
February 14, 2020
Published by Sandcastle Homes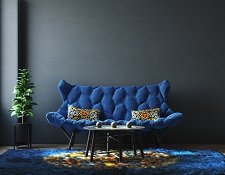 Every year new trends come on the scene and take the interior design world by storm. This year is no different. Read below to see what's popular in interior design trends in 2020.
Earth tones – The color gray has been very popular over the year's. But in 2020 it is all about earth tones. From beige and brown to green, red, and yellows, look to incorporate these colors into your space.
Floral wallpaper – Yes, wallpaper is still in. And this year it is all about the floral wallpaper. You can forego wallpapering a large space and opt for something more small or intimate like a bathroom or entryway.
Painted dark door – Are you tired of seeing the plain old painted white door around your new homes in Houston community? You can instantly add warmth and a creative flair to the space by painting your door a dark color. These warm colors are sure to bring character to the room and will definitely be around for the years to come.
Real plants – Bring life into your home by including real plants in your home décor. Though faux plants have been popular for some time now, it's time to get rid of the faux plants. Real plants help clean the air, reduce stress, help boost productivity, and add another layer to the room.
Velvet – Bring on the velvet! Of course you don't have to outfit your entire room with velvet. But you can outfit pieces of velvet into your décor through sofas and ottomans to throw pillows, blankets, bedding, and curtains.
What have you seen trending in your new homes in Houston community? What are your favorites? How do you plan on incorporating these interior design trends into your home décor? Let us know by responding to our post.

Tags: homebuilder houston tx, houston homes for sale, Inner Loop Houston homebuilder, new homes houston heights


Categorised in: Community Info, Design Center, Floorplan Info, Homeowner Tips, New Home Tips, New Homes

This post was written by Sandcastle Homes